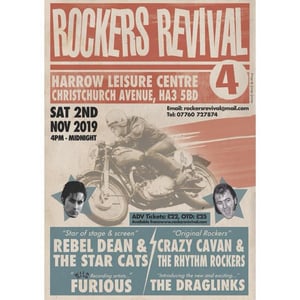 £

22.00
"ROCKERS REVIVAL #4" - ADVANCE GIG TICKETS: 3rd NOVEMBER 2018
(DOOR PRICE £25 PER TICKET)
HARROW LEISURE CENTRE
CHRISTCHURCH AVE, HARROW HA3 5BD
We are selling advance tickets
On behalf of promoters
GUNTRIP ENTERPRISES
FAN CLUB MEMBERS
*5% DISCOUNT ON ADVANCE TICKETS.
EMAIL FOR DETAILS
louisecrazycavan@aol.com
This discount has been
generously given by Guntrip Enterprises.
Methods of payment accepted via:-
Credit/ Debit Card or Paypal Balance.
We can ONLY post tickets to UK addresses
Please note Crazy Cavan,
thier management and Fan Club
are not involved in the organisation
or promotion of this event.
Enquiries regarding the event,
should be made via the
contact details on the Flyer.
Availability
CRAZY CAVAN ROCKERS REVIVAL #4 ADVANCE TICKET - 100% in stock